Ballard
Graduation Party!
The Graduation Party Tradition at Our School!
We know that our seniors will want to celebrate with their friends on graduation night, and we want to make that celebration spectacular… and safe.  We're asking for all senior parents and interested members of our community to join us in this important effort. We've all watched these kids grow up; Now let's make sure they stay safe on what could otherwise be one of the most dangerous nights in their lives.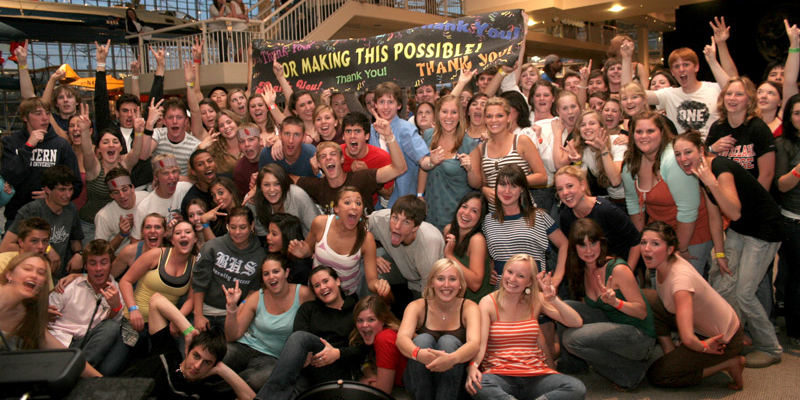 How Did This Tradition Begin?
Prior to Grad Nights, the tradition for most Washington State high schools was for students to graduate and then go out to party and drink all night. Many deaths have been associated with this activity, a fact that most of us unfortunately know all too well. Parents eagerly followed the lead of Grad Nights lead and joined with one another to provide celebrations that would allow students to spend one last time together as a class in an environment that was alcohol and substance free. We, the parents of this year's senior class, are carrying on this tradition to provide our students with a Grad Nights produced celebration.
A Night Like No Other
We are trying to be savvy about competing with seniors who might contemplate throwing an alternative party with alcohol. Our goal is to make the party irresistible for the majority of graduates. We will be traveling to surprise destinations with incredible all-night entertainment, delicious food, lots of prizes, and fun interactive games and other activities to keep the new grads busy all night long.
Handed Down From the Parents of One Class to the Next
The All-Night Senior Graduation Party has been a tradition in our community for many years and is passed down from one graduating class to the next. From a parent's perspective it ensures that our kids have a fun and memorable graduation party that is still safe, alcohol and drug free.
The Last Time For Our Kids to Be Together
Needless to say, this event is much anticipated by the seniors since this event will most likely be the last time they will all be together.
We're Not Alone In Trying to Keep Our Kids Safe
This is a nationally recognized program supported by the MADD organization, law enforcement agencies, and insurance companies. Produced by Grad Nights, this is a private, parent-sponsored event open to all of our school's seniors.
We Pick Them Up, Keep Them Out of Harm's Way, Make Sure They Have Fun, and Finally Bring Them Back in the Morning Safe and Sound
Our celebration begins after graduation when the seniors board buses that transport them to a special event facility reserved just for them. There will be non-stop entertainment all night long!  This will be a night full of reminiscing and unforgettable memories… one last night with friends! Once at the location(s), seniors will not be allowed to leave without the permission of their guardian until their return about 6:00 am when they will be returned tired, but safe and sound.
Keeping Kids Safe and Having Fun is Our Goal!
Be sure to review the updated Party Rules by checking out the PARTY DETAILS PAGE. In addition to spelling out the party rules, it provides very helpful guidelines on what and what not to bring to the party.